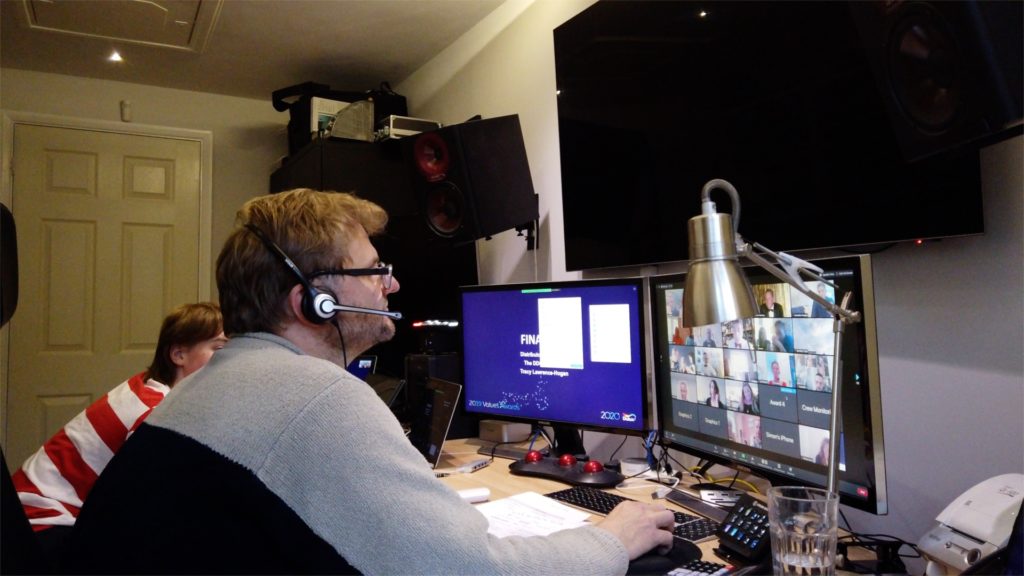 A new type of online event
Since lockdown we've been involved with a number of 'virtual awards' ceremonies and they've been great fun. It's been an exciting challenge to take our expertise in live events and video streaming and create what amounts to a new category of online event that only exists because of the current challenges we face with Covid. With so many moving parts, normally our approach is to prepare as much as we can in advance to ensure things go smoothly on the night.
With any live event there is always the potential for things to go wrong and the more of that potential we can remove in advance, the better. This means our events have been either 100% or nearly 100% pre-prepared with the live element being the shared experience of audience watching the event for the first time together.
The challenge
However when Simon Colvan of AkzoNobel, producers of Dulux paint, contacted us about producing a virtual version of their employee recognition awards, he was clear he wanted something properly live. Why? Well because this event isn't just about giving out awards, it's about people catching up with colleagues they haven't seen for four months. He wanted to re-create a real awards ceremony including the experience of being able to cheer on your colleagues and to have a good old natter with them as well.
Finding a solution
Clearly the traditional streaming model wasn't going to work in this instance so we looked for a platform that was able to deal with multiple video feeds and allow participants to chat. In the end we chose Zoom. This was for many reason. These included its efficiency, ubiquity, its robustness and its rich functionality. However moving to a video conferencing platform meant we needed to relinquish some control. Something that goes against the grain for a video production company! It meant we didn't know exactly how our attendees would be viewing the event. Both in terms of the platform and also how that platform was configured.
Trusting your attendees
I had a lot of conversations about this with Simon and his attitude was we shouldn't treat the people attending any different than if it was a live event. Which means we trust them to watch it the way they want to and crucially we trust them to keep quiet at the right time. He wanted to hear people clapping and cheering which led to the brave decision to not mute anyone ourselves. I have to admit I was concerned and we discussed the fact we could centrally mute individuals or if it came to it, everyone simultaneously.
Making it as real as possible
Additionally Simon and his team had some very original ideas to make the evening even more exciting. He arranged for the attendees to be able to order their own 3 course meal for the evening courtesy of the company. He also wanted people to be sat at virtual tables so that between the awards announcements they could chat with each other. We achieved this with Zoom's breakout room functionality.
And another brilliant idea was he wanted the award to be delivered to the winners' door step when the award was announced. This was an added level of complexity but was also a fun challenge that we and his team embraced. We had six people around the country using their mobile phones effectively as outside broadcast trucks, allowing us to see winners open their front door to collect their award.
A live event approach
We approached the show in the same way we would a live event so we had video clips, presentation slides, music and voice of God. When we went live, there was one technician controlling the vision so the correct speaker was highlighted for viewers from the 50 people connecting and one person running presentation slides, video and music. This is very similar to a live production.
The end result
The ceremony was extremely successful. Simon's instinct was correct and we did not need to use our remote mute functionality. The fact anyone could contribute at any time added to the fun of the night. Four of the six door step deliveries worked flawlessly and the two that didn't, we had a plan b which worked perfect.
The event was a success and Simon and wider organisation are very happy with the result. It's very exciting to have to use our existing knowledge and expertise in new and interesting ways to solve some of the challenges faced in this new environment. In this instance I don't think it's an overstatement to say we feel in partnership with AkzoNobel we've, once again, created a new class of online event.